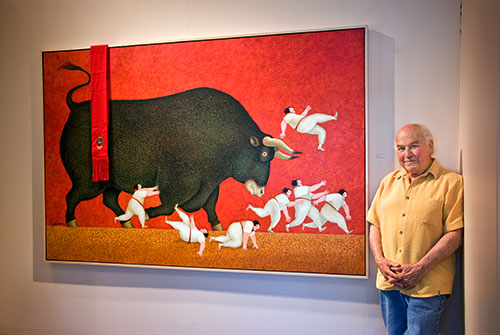 Lowell Herrero
October 10, 1921 – November 28, 2015
Lowell Herrero of Calistoga, California, died from natural causes on November 28, 2015 at the young age of 94 after a very active and full life.
A born and bred Californian, Lowell was a graduate of Oakland Tech High School, served in the U.S. Coast Guard during World War II and graduated from the California College of Arts and Crafts in Oakland.
Lowell, who was fondly known by his best friends as "the Living Legend", "H", "Lorenzo," and "Mr. Wonderful", enjoyed a long career in commercial and fine art. After his formal art education at CCAC he immediately embarked on a very successful career in advertising illustration and design. He started at the bottom, as part of a large studio, and worked his way to the top—eventually starting his own graphic design agency, Butte, Herrero and Hyde, which was extremely successful. The three partners, all artists, each yearned to be free of the corporate life. They dissolved their business amicably, and Herrero embarked on a new phase of his life perfecting his true passion, fine art, with the unconditional support and blessings of his wife, Janet Gentile of San Francisco.
In 1993, Herrero designed and constructed a new studio on Mount Saint Helena, at the top of the Napa Valley. The location and size of the studio greatly influenced his work giving him compelling new subject matter and allowing him to paint in a large format. In 2001, he settled permanently in the Napa Valley, where he lived with Janet in a Tuscan farmhouse "village" of his own design. His art and life were strongly influenced by Picasso, Matisse and Van Gogh, yet he perfected his own unique art style incorporating pointillism, distortion, and a naiveté that set him apart from his contemporaries.
Lowell loved life as much as he loved to paint. His joy of life, simplicity, sense of humor and extreme human kindness are clearly reflected in his work. Up until his death, "H" spent each day in the studio, painting. His images were often of country landscapes which portrayed laborers, farm workers and ordinary people he observed during his extensive travels and as shaped by his vivid imagination. He was not only a local treasure who generously gave to the community, but a nationally known artist whose work has charmed the senses of casual viewers and collectors alike.
Lowell was able to live with prostate cancer for over 25 years thanks to the research, support and care he received at UCSF. Memorial contributions may be made to the V Foundation for Cancer Research at www.winecelebration.org/donate. To make a donation, simply go to Donate Now, then select Donation Type: In Memory of Lowell Herrero.
Lowell is survived by his sister Verna, daughters Shelley Martin and Debbie Trautner; grandchildren Erin Herrero, Andrea and Natalie Trautner, and Nick Martin; great-grandchildren Ruben and Lillian Trautner Toledo, and many friends all of whom loved him dearly. "Mr. Wonderful" celebrated love and creative collaboration with his widow, Janet, for each day of their 33 years of marriage. She survives with fond memories and a broken heart.